Respublikos g. 14
Tel.: 8 616 19 175, e-mail: aje@pavb.lt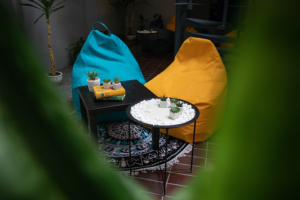 ZEN ZONE is a unique place in the library, where you can relax and run away from everyday challenges. If you would like to have a minute for yourself and care for your well-being, it is a place for you!
ZEN is related to your inner focus. The ZEN ZONE offers just that: you will feel the calming ZEN atmosphere, get familiar with the Japanese culture, and unleash your creativity. ZEN ZONE is designed to relax your mind by surrounding you with green plants, sea sand and quietness.
ZEN ZONE welcomes youth from 14 to 29 years old. Bring a novel, a notebook, or simply relax and focus on yourself.