Respublikos g. 14
Tel. 8 616 19 175, e-mail aje@pavb.lt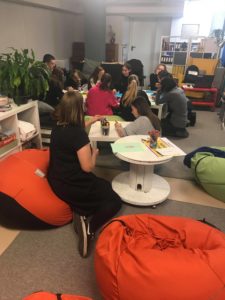 Open Space for Youth is a place to spend leisure time in a meaningful way. Here gather young, broad-minded individuals of various subcultures and hobbies.
Open Space for Youth allows you to:
meet with friends,
treat yourself with a cup of coffee or tea for free,
play board-games,
seek inspiration,
implement your ideas,
spend leisure time after school,
volunteer,
perform social tasks,
reserve the space for meetings,
organize events and activities,
participate in various discussion clubs,
or simply hide from the rain.
Open Space for Youth organises a number of educational activities. Individuals and groups of pupils and students are welcome to register.
The official Facebook page of Open Space for Youth