Zaosė farmstead, Krekenava eldership, Panevėžys region
Tel. 8 688 75 727, e-mail arnoldas.simenas@pavb.lt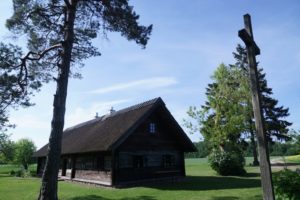 Juozas Urbšys Social Thinking and Culture Centre is the library's subunit. The Centre operates within the library and carries out cultural, scientific, artistic activities.
It manages the last Foreign minister of Lithuania Juozas Urbšys' farmstead. The farmstead, which was gifted to the library by the minister's relatives after his passing, includes an old house where the exhibition of historical documents and photographs of J. Urbšys are being kept.
The centrepiece of the farmstead is a historic oaktree. Its' shadow serves as a cosy place for the library's social gatherings, celebrations, exhibitions, poetry readings and other events.
You are welcome to visit the farmstead and the exhibition at an arranged time.