Respublikos g. 14, Ist floor
Tel. (8 45) 46 54 97, e-mail abonementas@pavb.lt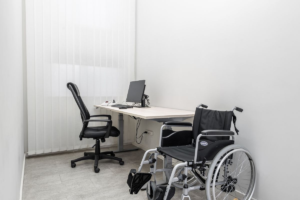 The library offers a special workstation for people with disabilities on the first floor, next to the registration desk. It allows visitors to easily use library's informational resources. This workstation contains:
a keyboard with larger keys,
a special mouse,
Lithuanian language synthesizer,
a screen view enlarging program "MAGIC", which allows to see 12 to 16 times larger view,
a reading program JAWS, which reads the text aloud for you,
ergonomic furniture,
a wheelchair.
There is also a vertical platform lift, which allows you to reach second and third floors.
In the library Lending department (1st floor) there is a service point of the Lithuanian Library for the Blind, where visually impaired persons and people with other disabilities can borrow audio books and magazines (on MP3 format).
More information here.