Respublikos str. 14, Ist floor
Tel. (8 45) 46 54 97, e-mail abonementas@pavb.lt
Monday–Friday 9.00–19.00
Saturday 9.00–16.00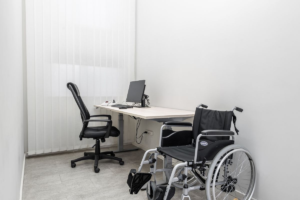 A special workstation on the first floor allows people with disabilities to easily access library's informational resources. This workstation includes:
a keyboard with large keys,
a special pointer,
Lithuanian language synthesizer,a program "MAGIC", which allows to see 12 to 16 times larger screen view,a reading program "JAWS", which reads the text aloud for you,ergonomic furniture,a wheelchair.
There is also a wheelchair lift, which allows to reach second and third floors.
If you need any assistance, do not hesitate to approach a librarian.