Respublikos g. 14, IIIrd floor
Tel. (8 45) 46 55 52, e-mail muzika@pavb.lt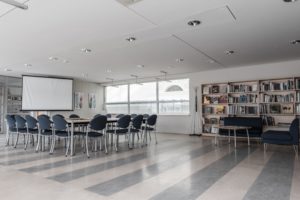 Arts Reading Room is a place where you can find various information about art, to participate in or organise educational activities.
The Arts Reading Room also holds an exhibition of Stasys Eidrigevičius work. It is a unique opportunity to get to know the publications about the art of a world-renowned Lithuanian artist who lives in Poland. The publications include:
fiction books,
art albums,
art exhibition albums,
illustrated books,
posters,
postal cards,
drawings,
bookplates,
photographs,
other original art works.
You are welcome to use the publications inside the library.
Here you will also find:
A collection of Lithuanian and foreign composers' music sheets,
music recordings of various periods, styles, genres, nations (stored in phonograph records, audiotapes, CDs, and other computer storage devices), video recordings of feature films, documentaries, cartoons, concerts, theatre performances,
art albums of famous Lithuanian and foreign artists.
The Reading Room holds 5 computerised workstations. Free Wi-Fi is available. You can copy and print excerpts from audio recordings and save them into storage devices (audiotapes, CDs, USB flash drives). Prices
You can listen to audio recordings and watch videos individually or in groups. It is required to make a reservation in advance.