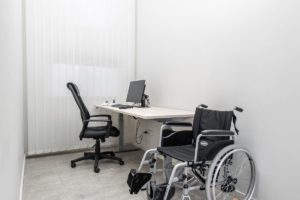 There is a special workstation for people with disabilities on the first floor, next to the registration desk. It allows people with special needs to easily use library's informational resources. This workstation contains:
a keyboard with larger keys,
a special mouse,
a screen view enlarging program "MAGIC", which allows to see 12 to 16 times larger view,
a reading program "JAWS", which reads the text aloud for you,
ergonomic furniture,
a wheelchair.
There is also a vertical platform lift, which allows you to reach second and third floors.
If you need any assistance, do not hesitate to approach a librarian.